First observation:
BEC! - report: Sept. 23, 2002
Group:
Sengstock

Holger Schmaljohann, Michael Erhard, Jochen Kronjaeger, Markus Kottke, Sebastian van Staa, Kai Bongs, Klaus Sengstock.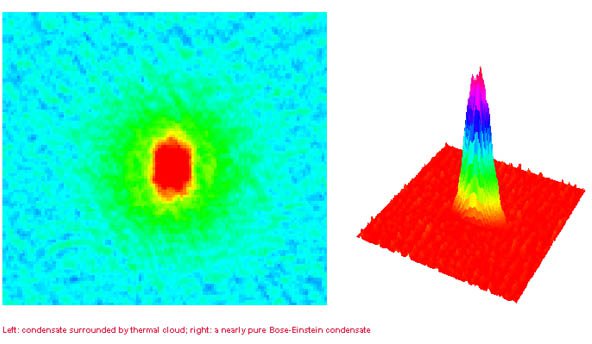 [Historical report created from GSU BEC Homepage:]
"In the early evening, September 23, we have realized a Rb-BEC in a new and compact setup at Hamburg University. Slow atoms from an upper 2D-MOT beam, similar to the one in Amsterdam, are captured within 10 sec in a lower 3D-MOT and subsequently transferred into an especially designed cloverleaf- and D-magnetic trap (255 Hz and 11 Hz measured trap frequencies). After 15 sec rf-evaporation we observe the onset of BEC in the usual time-of-flight images. In the first measurements we have measured 1 to 2 x 106 atoms in the condensate fraction.
On the figure above:
Left: condensate surrounded by thermal cloud; right: a nearly pure Bose-Einstein condensate.
These results were achieved by the team of
Holger Schmaljohann (Ph.D. student)
Michael Erhard (Ph.D. student)
Jochen Kronjaeger (Ph.D. student)
Markus Kottke (Ph.D. student)
Sebastian van Staa (diploma student)
Kai Bongs (post-doc)
Klaus Sengstock (professor)
with additional support by Jan Arlt and Wolfgang Ertmer from Hannover university.

We are looking forward to a lot of fun with BEC's in Hamburg. For further information, see the group web page."