First observation:
BEC! - report: Sept. 24, 2002
Group:
Anderson/Cornell

Peter Schwindt, Ying-ju Wang, Quetin Diot, Tetsuo Kishimoto, Dana Anderson, Eric Cornell.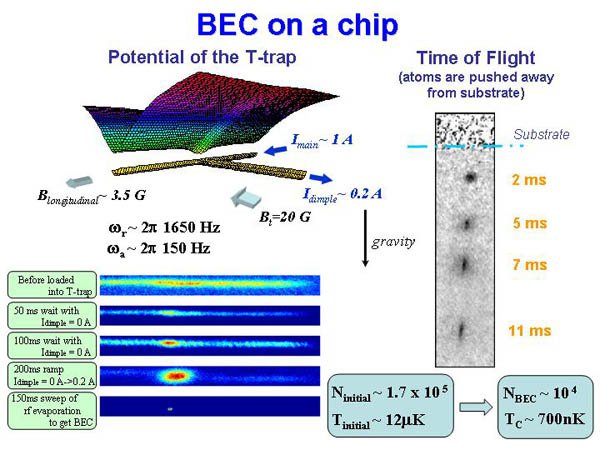 [Historical report created from GSU BEC Homepage:]
"On September 24th we succeeded in making 87Rb (|F = 1, MF = -1>) BEC on a chip at JILA. We load 1.7 x 105 atoms into a magnetic T-trap and after ~ 150ms sweep of forced evaporation cooling we get ~ 104 atoms in the condensate. The T-trap consists of a main wire and a branched wire. The main wire (1A) and the transverse bias field (20G) create the radial confinement. The branched wire (0.2A) produces a dimple in the longitudinal bias field (3.5G) which results in a tight axial confinement.
Schematic of the JILA experiment is shown on the figure above.
Members of the group:
Peter Schwindt (Graduate Student)
Ying-ju Wang (Graduate Student)
Quetin Diot (Graduate Student)
Tetsuo Kishimoto (PosDoc)
Dana Anderson (PI)
Eric Cornell (PI)
We also acknowledge help from Volker Schweikhard and Ben Luey (Graduate Students).
Details will be soon available from our web site."