First observation:
BEC! - report: Sept. 1, 2002
Group:
Hall

Aaron Butler, Matt Eckelman, Micaela Mendlow, Erica Newman, Ted Reber, Mike Reed, Ben Samelson-Jones, Scott Owen, Nathan Stokes, Mark Wheeler and David S. Hall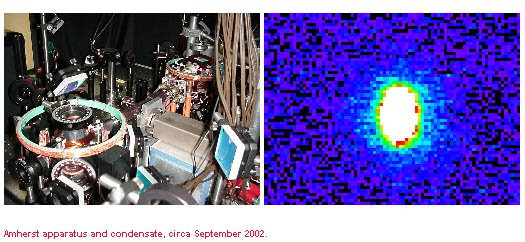 [Historical report created from GSU BEC Homepage:]
"On September 1, 2002, our group succeeded in creating a Bose-Einstein condensate in the |F = 2, MF = 2> state of 87Rb. We are using a TOP trap and double MOT system, collecting 4 x 108 atoms in about a minute and subsequently producing BECs with 1-2 x 105 atoms and no noticeable thermal component. We use a combination of "hole of death" and rf evaporation to cross the BEC threshold. To our knowledge, this is the first BEC at an exclusively undergraduate institution.
Figure above: Amherst apparatus and condensate, circa September 2002.
Our group contributors are (numbers indicate graduation year):
Aaron Butler '02
Matt Eckelman '01E
Micaela Mendlow '04E
Erica Newman (postbac)
Ted Reber '03
Mike Reed '04
Ben Samelson-Jones '01
Scott Owen '02
Nathan Stokes '00
Mark Wheeler '04
David S. Hall (PI)
We have also received funding from the Howard Hughes Medical Institute, the Research Corporation, and the National Science Foundation.