Login and Authentication
In order to log in, scroll down to the bottom of the page and look for the "Login" link in the footer. Here is a link to the login form.
If you do not have an account yet, you can use the registration form to submit a registration request. Please note that only institutional email addresses are accepted in order to avoid unwanted registrations. If you have a free Gmail, Hotmail, Yahoo and you can not use a university/institutional address, please use this contact form to let us know and we will create an account for you with the free email address.

Editing Content

Afte logging in, you will see the wagtail symbol in the lower right corner of the page:


Browse to the section of the website where you would like to add your content and if you click on the wagtail symbol, you will see a simple drop-down menu which will allow you to add or edit a page: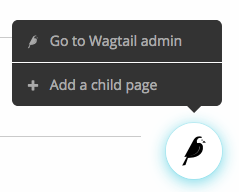 If you have permissions to edit the current page another option may appear in the menu: "Edit this page".
When you have finished editing, on the bottom of the page, choose "Publish" from the blue drop down button. Please note that if you don't publish the document, it will not show on the website.