QCMC 2012 - 11th Intl. Conference on Quantum Communication, Measurement and Computing
July 30, 2012 to Aug. 3, 2012 (past)
Location: Vienna, Austria
Scope of the Conference
Quantum Cryptography and Quantum Communications
Quantum Measurement and Quantum Metrology
Quantum Computing and Quantum Information Theory
Implementations of Quantum Information Processing and Quantum Simulations
Quantum Control
Foundations of Quantum Physics
Vienna has a long-standing tradition in pioneering Quantum Mechanics both in Theory and in Experiment. In recent years a new cluster in Quantum Science has emerged in Vienna as a result of joint efforts at the University of Vienna, Vienna University of Technology, and the Austrian Academy of Sciences.
The historic building of the Vienna University of Technology (www.tuwien.ac.at) is located at Karlsplatz, in the centre of the City of Vienna, minutes from the Opera and the Musikverein. It has a very good infrastructure and several, recently renovated 19th century lecture halls equipped with modern presentation technology.
QCMC 2012 will be held at the re-furbished Kuppelsaal (cupola hall) in the main building at the Karlsplatz. It is perfectly suited as an attractive location for conferences. The venue offers 300 seats, complete AV equipment and an elevator (directly to the location). Additional rooms are available for satellite meetings and poster sessions.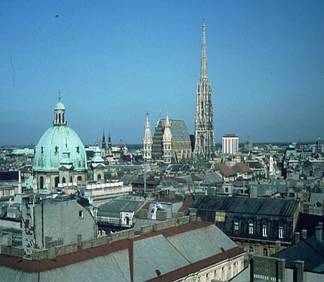 Vienna is a very popular international travel destination. The historical city center is a dedicated UNESCO World Heritage Site. In 2009, Vienna was ranked 1st in quality of living by Mercer Human Resource Consulting.
Conferences in Vienna are very popular, since many scientists and their partners and families enjoy the opportunity of an interesting conference to (re-) visit the city.
Vienna has many very famous tourist attractions and museums, including outstanding collections of painters like Klimt, Schiele and Breughel, to name a few. Vienna also has a very active scene in classical music, and offers a very rich summer program.
While the city of Vienna provides ample possibilities for sightseeing and nightlife, the surrounding countryside provides many interesting opportunities for day trips. There will be an organized outing to the countryside during the course of QCMC 2012.